10 Apr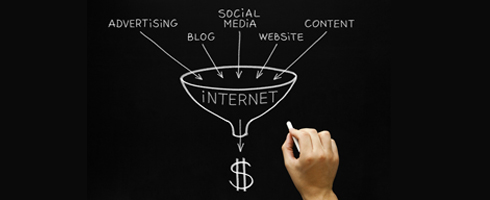 Your website is a very powerful tool that you can use not just for marketing, but for generating extra income as well. When the traffic that is coming into your site increases, so are the chances for you to earn money from it. If you would like to know how to do that, take a look at the following money making ideas:
1. Use your website to display advertisements
It's not a secret that website advertisements earn money. One of the most important ingredients for having your site successfully carry advertisements is to make it as niche-focused as possible. For example, if you are a site that primarily offers health information, you are more likely to get approval for displaying ads.
When you have a niche site, all you need to do is create a media rate card with the following information:
number of unique visitors
number of impressions
average duration of visit
visitor demographics
You can then upload a rate card to your site then send it to marketing departments of different corporations as well as media-buying agencies.
2. Make use of Google AdSense
 The AdSense tool works by placing relevant ads on your site. It would look strange to see health-related ads on a site that talks about technology. This is the beauty of AdSense because it matches the ads to your site so everything looks just in place. You can even adjust the appearance of the ads so it really suits your site.
3. Make use of TextLinkAds
 TextLinkAds offer direct click-throughs from text on your site. You submit your site to TextLinkAds then you upload the ad code you are provided with. You can reject or approve the ads that are supplied to you. Once everything is done, you start warning whenever visitors click on your ads. You can also try this with Skimlinks, which turns the content on your site into affiliate links so that you can earn money as well.
4. Go for sponsored conversations
Services like IZEA allow you to get paid for posts. What they do is that they match bloggers with advertisers. Although some people doubt the ethics behind paying a blogger to write something good about a product, but it does earn you money.
5. Sign up for affiliate schemes
There are affiliate schemes like Amazon Associates where you earn up to 10% in referrals by driving traffic to Amazon through specially formatted links. The referral fee you earn is through the sales generated through those links. You get monthly checks from Amazon, plus it's not hard to join and it's free.
6. Make use of sponsored features
 There are several options when it comes to this. You can approach advertisers and suggest to them a sponsored eBook, e-news, podcast, webchat, poll, or survey. These will then be added to your site at a low cost, but something that you can earn revenue from. Take a look at these following services you can try:
Blurb – for eBook creation
SurveyMonkey – for a survey or poll feature
MailChimp – for email marketing
7. Offer your expertise for a fee
Although you may offer free information on your website, you can ask for a fee if you want visitors to access more information. Here are a couple of examples:
Offer teleclasses – You can invite customers and contacts to a call where you get to offer them your expertise on a one-to-many basis.
Offer webinars – You can deliver a presentation to an audience will pay to see your presentation. Your can do this through GoToWebinar.
8. Make a deal with suppliers
Let's say you host a travel blog. You can agree with agencies whenever a booking is made through your website.
9. Turn your blog into a book
How many times have we seen a successful blog turned into a book? Turning your blog into a book gives your audience a physical copy of stories they loved from your site.
10. Ask for donations
Other popular sites do it, why can't you? Once you've built up a community, you can ask them for a small favor of donating a small amount to keep your site running. You can do this through the donate feature from PayPal.
As you can see, there is more than one way to make money out of your website. So, choose an option that works best for you and see the money roll in.